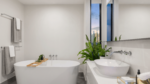 The population keeps on increasing and the world keeps getting bigger, hence spaces keep getting smaller. But it is the world of creativity, any restriction on physical room need not have a limit the level of luxury. Small space just asks for a different perspective, to make it look and feel grand. The majority of us have desires of grandeur in the bathroom that requires space, but there are ways to adhere to the walls of a small bathroom and achieve all the luxury goals. Here, in this article, we've brought ten design hacks for small bathrooms to make them look bigger and help expand your vision.
Keep the Colours Light & Bright
Having corners that are shrouded in darkness is a huge NO in a small bathroom. Let the light enter. Shadows can make a room feel even smaller. Being able to see your flooring creates the illusion of space. When good lighting enters a space, its dimensions feel bigger, and don't let darkness cut any angles. Get as creative as possible with lightings in the bathroom. Whether it is pendant lights, strip lighting, or around the mirror cabinet, lighting has various opportunities in a small bathroom.
Bright Shutters For a Colour Pop & Privacy
Shutters are a great idea to work well to dress bathroom windows for the necessary privacy, along with retaining the light. A half shutter option is a wonderful choice to meet the requirements as full shutters aren't required in a bathroom. Blinds work from top to bottom so block the top half of the window and hence solve that problem well.
Protip – Get them painted to match your colour scheme, it can also work to add an accent color to the overall look.
Mirror Cabinets
When you have a small bathroom, the useless vanities don't need any attention from your end. Wall cabinets are often necessary when talking about bathroom storage ideas. A mirrored wall cabinet can also be recessed into the wall so that it can offer the depth of storage. You can let an elegant mirror cabinet hold your possessions with care. While you smile looking at yourself, you know that the mirror already holds your toothpaste, tooth brush, cleanser or cologne.
Glass Doors
Are you also one of those who is irritated by the shower curtain that sticks to you every time you get out?
Well, it's high time to transfer to glass doors. Glass doors will make your bathroom feel spacious and stylish. When we can see all the space, our brains are tricked into believing that the space is larger than it actually is. A glass can also be cut to size meaning it can settle even in the tiniest corners. Also, ensure that you clean your shower doors regularly for a gleaming finish.
A Tiny Tub for a Tiny Space
People tend to assume that a small space in a bathroom always means a shower and not the tub. But even in the tiniest bathrooms, you can get fabulous small bathtubs to fit in. This is a revolutionary idea for the ones who aren't really fans of showers. You might need to sit up more, but you can still relax.
Pro tip Paint the exterior of the tub to match the colour scheme and you are a pro at interior designing.
Opt for Wall-hung Units
Regardless of the size of your bathroom, wall-hung units are the best options for faking the square footage. Choose the design that matches the colours of your walls for a cohesive look and consider wall-mounted taps, which allow for slimline basins and more space on the top of them for bathroom paraphernalia.
Choose Texture Over Colour
You don't need to use paint if flat walls aren't your thing; consider textured tiles instead.
The herringbone pattern is a trend right now and although mainly seen on floors, you can also use it successfully on walls.
The Mother of Pearl style wall tiles add a lovely tactile element to this bathroom and they contrast texturally with the plain white floor tiles. Add in a vintage style rug for a touch of color and look for rustic pieces like a wooden stool for a bit of warmth.
Mini Tapware and Sink
A large sink and tap will surely make your small bathroom look even smaller and may take the charm out of it. You'll be left with nothing but no room to stand and obviously no room for relaxation. We believe these as a great idea to retrieve some space: mini fixtures! Installing a dainty sink and tap lets your bathroom take a breath, without compromising on function.