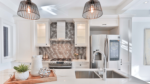 2020 was the year the entire planet would like to forget. But the coming years will be heavily influenced by the threat and changes the last year brought to our lives. Especially in the homes of 2021, the interiors will be faced with new challenges. Along with the lifestyle, the lockdown period also changed the way we approach living spaces. Right from the colours we choose for our home, to the products we feature, to the materials used to build the home, there are numerous challenges faced to suit our new living style.
Interior design is the science of utilizing space, furniture, and colours to develop a desirable and pleasant environment. It is necessary for an interior designer to keep up with the upcoming trends especially when the Covid-19 pandemic has changed the entire approach of the way people live their lives.
In 2021, creating dynamic spaces on the basis of client requirements will be a must. Hence, we have brought 5 Interior Design trends to look for, in the year 2021.
Dedicated Work Space
Work from Home has become global liberty, thanks to the Covid-19 pandemic and its restrictions such as a lockdown. It might be back to normal soon and work from the office will be back in trend, but work from home will always be an option for employees. So dedicated workspace will now be a must-have for most people. A small office nook with a desk including shelves to organise the supplies and a quiet space to peacefully attend virtual meetings will be on the basics list of anyone building or renovating their home.
So moving on, a dedicated workspace at home can be considered as one of the most important interior design trends. Though home design trends keep on changing, this is something that is here to stay for the long term. Even after going back to the office, there will be days when people will find it more comforting working from home, and this space will be of great help.
Let Light In
One more thing that 2020 taught us is the importance of natural light. Even when you are unable to go out, you must be able to consume the natural sunlight in your home, to help you feel fresh. Natural light has so many benefits such as an increase in Serotonin.
Covid has not yet disappeared. It is advisable to step out only during emergencies. Due to social distancing and lockdown, we are not venturing out often, having sunlight in the home has become highly important. Open up the windows and put away all the curtains. A renowned designer said in 2021, there will be a focus on bringing as much natural light as possible into the home, especially in winters. Make use of blinds or sheer curtains instead of heavy ones. You can also keep windows bare, it helps inviting the sunlight in. "It's an easy and fast way to bring in some light and make our space feel so much more comfortable," Designer Michelle Martel says. Bonus points if you have a skylight!
Flexible Living Spaces
This is yet another trend to keep an eye on. People now prefer smart spaces that can be multifunctional. Utilising a small space for multiple purposes at the same time can be a great help in the case of smaller homes in crowded cities. Now that people are spending more time at home, they are looking around for ways to make their homes more functional as well as beautiful. Multi-purpose furniture or workspace is going to be a game-changer for a stay-at-home lifestyle. For instance, a dining table that can be folded when not in use and that also looks like an art piece when folded. Utilisation of small spaces smartly and multi-functional furniture can be a transformational idea for interior design trends in 2021.
Natural Decor with a Pop of Colour
Now that people are spending most of their time indoors, right styling is also gonna be a great option for interior design trends. The go-to accessories in 2021 are majorly about being natural. The calmness brought by an earthy palette will be a soothing experience and adding just a touch of colour will help add a bit of life to the interiors. In the upcoming years, people will try to stick to earthy tones, terracotta vases, marble coffee tables, wicker baskets, and wooden furniture pieces. This will altogether add texture and warmth to the home giving it a more organic look that produces relaxed and calm vibes. Utilise colours like white, grey, and beige to have an earthy and neutral interior landscape. A pop of colour can uplift a calming atmosphere if you need a bit of enthusiasm. Add bright mustard for warmth, or royal blue for sharp elegance.
Comfort and style should go hand in hand when talking about the interiors of the home. Choose wisely and according to your requirement. Reach us out if you face any issues while making the decision.